Today, I have the honor to participate in Rebekah Lyn's book release blog tour. As part of the tour, I was asked to read and review her book, Jessie. First, I will share some information about the book and then I will post a review. But make sure you come back to visit the blog on Saturday when I post a short story partially inspired by Rebekah's book.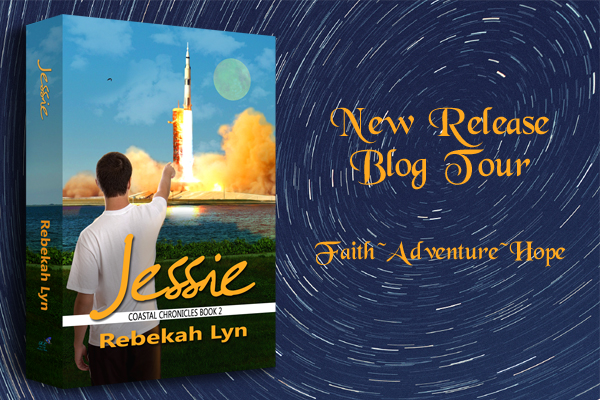 About the Book
The four Cole boys suffer abuse at the hands of an alcoholic father, while largely being left to their own devices by a heartbroken and overworked mother. Their adventures on their island home have become a welcome escape, and one of the only things in life the boys can truly rely on. Jessie, the youngest and a dreamer, becomes enamored with US plans for manned space flight and its race to the moon, stirring his own dreams of one day becoming an astronaut. In a strange twist of fate, it is the space program and the momentum it gains that abruptly brings their beloved island life to an end. The family is forced to move to the city and start anew.
Life in town creates new challenges, financial pressures, news of the Vietnam War and the impending threat of the military draft for Max the eldest of the Cole brothers.
About the Author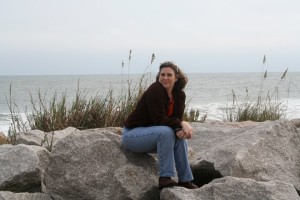 Rebekah Lyn is a popular Indie writer with a strong following of loyal readers who enjoy her inspirational novels of Faith, Adventure, and Hope. She is a Christian with a heart for new beginnings, and her desire is to reflect that in each of her books.
Rebekah is a sandal-loving native Floridian, growing up in Titusville, Florida, within sight of the Kennedy Space Center. This was an exciting time to live on the Space Coast, with launches taking place on a regular basis. Growing up, the best place to watch a launch was at the edge of the Indian River, just blocks from Rebekah's home. Fond memories abound of windows rattling and dogs barking as the big Saturn rockets or the Space Shuttles raced into the heavens. Sonic booms made everyone jump as the astronauts returned from space, and sometimes she could get a glimpse of their return in the skies above her home. She will always be proud of America's space program.
An eye witness to the Challenger disaster on January 28, 1986, she and her fellow classmates watched with horror as the historic event unfolding before them. This event became a personal and lasting memory.
An active participant in social media, Rebekah enjoys interacting with her readers, particularly at her her signature "Tea with the Author" events.
Rebekah Lyn Invites you to purchase books and e-books through:
Connect with Rebekah through:
Website: http://www.rebekahlynbooks.com
Blog: http://www.rebekahlynskitchen.wordpress.com
Twitter: http://twitter.com/RebekahLyn1
Facebook: http://facebook.com/authorRebekahLyn
Pinterest: http://www.pinterest.com/rebekahlynbooks/rebekah-lyn
Email: authorrebekahlyn@icloud.com
Goodreads: http://www.goodreads.com/author/show/5444665.Rebekah_Lyn
Independent Authors Network: http://www.independentauthornetwork.com/rebekah-lyn.html
Rebekah Lyn Books
Faith-Adventure-Hope
> > > > >
My Review
When I first signed up to be part of the blog tour for Jessie, I was thinking that the book would be a nice, easy read with some good historical information about the time Jessie lived in and that would be that. Boy was I shocked to find out just what kind of book it was. Rebekah Lyn took her book and made each and every character seem truly alive. I wanted to meet all four of the Cole boys just so I could actually see them in person. I wanted to take Mr. Cole by the scruff of his neck and tell him to shape up and fast before he completely lost all respectability.
And the historical details were amazing. I had read about the race to space, the Vietnam War, the draft, and all the controversy behind them all, but reading them lived out in the life of the Cole family was like living it out for myself. Jessie's excitement and disappointment about the astronauts and the space program became my excitement.
The family life details were woven in perfectly. The Cole family was far from the perfect family, but they all managed to get through their tough times together.
The worldview:
Though not blatantly and head-bashingly Christian, there are definite Christian undertones throughout the entire book. Rebekah did a good job of weaving subtle Christian truths in Jessie without it becoming preachy.
Sexual Content:
There was one scene toward the end when I thought it might get a little steamy, but one of the characters stopped it from happening and stood up to his principles (sorry for the vagueness, but it would be a pretty big spoiler if I said more. If you would like to know more details I can tell you in an email).
Violence:
The only violence in the book is what is to be expected when four teenage boys are going to a new school with a bully.
The bad (or sort of bad):
The only negative critique I have for Jessie is that there are four boys who are all in high school and none of them are twins. This seemed a little unrealistic to me.
Overview:
Overall, Jessie was a well-written, well-researched, historically account of one of the most turbulent times in American history.
Recommended age: 13 & up
Rating: 5/5 stars
Shameless Plug
Just a reminder (or an announcement if you are new to my blog): I still have a giveaway running through July 31st and my book A Mighty Fortress is currently 67% off for a limited time: http://www.amazon.com/dp/B00GPDQVC2. Check it out today.